Best Rides at Disney World 2019
10 favourite things to see and do at Walt Disney World Orlando
Best Disney World Rides in Each Park 2019
Walt Disney World Resorts in 2019/2020: A Great Place to Take the Kids this Winter. Ever since opening in 1971, Walt Disney World Resort in Orlando, Florida, has been one of the most popular American destinations for people from across the country and around the world. It's a hard task to pick the best rides in Disney World.
The Best Resort is the real-life realization of Walt Disney's dream resort. With its 2 water parks, 27 theme hotels, 4 theme parks, and 4 golf courses, it is one of Florida's biggest vacation attractions. That is saying a lot considering that Florida is one of the great vacation destinations in the world.
Hollywood Studios
Hollywood Studios Guide Map
Epcot Park
Epcot Theme Park Guide Map
Florida Residents: Save 40% with a 4-Day Disney Theme Park Ticket.
7:00 AM to 11:00 PM Eastern Time. Guests under 18 years of age must have parent or guardian permission to call.
Magic Kingdom
Best Magic Kingdom rides and experiences
Most popular park at Disney World – Magic Kingdom with its Cinderella's Castle, the well-known symbol of Disney. This park is a magical, fantasy kingdom with themed attractions and rides that can make children's dreams come alive.
Animal Kingdom
Best Animal Kingdom rides & experiences
For animal lovers, there's the Animal Kingdom Park, which is devoted to nature and conservation. As you walk into the park, you will immediately see its 14-story Tree of Life set in the middle of its tropical jungle. This park offers more than 250 species of animals which can be seen as you follow the nature trails and enjoy some of its thrilling rides.
Animal Kingdom Theme Park
EPCOT
Popular EPCOT rides and experiences
In 1982, Epcot Center was added to the complex. It is twice as big as Magic Kingdom and Spaceship Earth is its biggest attraction. Looking like a giant golf ball, one that is 18 stories high, it presides over the park that was built to honor technology, international culture and innovation. All of these themes can be found in its amazing cultural exhibits and fun rides.
Hollywood Studios
TOP 10 Disney's Hollywood Studios rides and experiences
Yet another popular park, Disney's Hollywood Studios, is dedicated to the glamour and action of Hollywood with its attractions and thrilling rides that are inspired by top TV shows and popular movies. Its architecture is dominated by 1930s and '40s themes spilling over into its hotels and vintage streets.
Disney's Hollywood Studios
Typhoon Lagoon Water Park
Typhoon Lagoon and Blizzard Beach are the two water parks which are open year-round and contain real sharks to spice up your snorkeling and surfing. The Blizzard Beach was built to look like a beautiful winter ski resort.
Disney's Typhoon Lagoon Water Park
Blizzard Beach Water Park
Disney's Blizzard Beach Water Park
This is a huge theme park dedicated to the Sea World and its inhabitants, with various attractions, rides, and entertainment programs. SeaWorld Orlando is a world of endless fun and adventures, amazing roller coasters and different rides for absolutely every taste and age!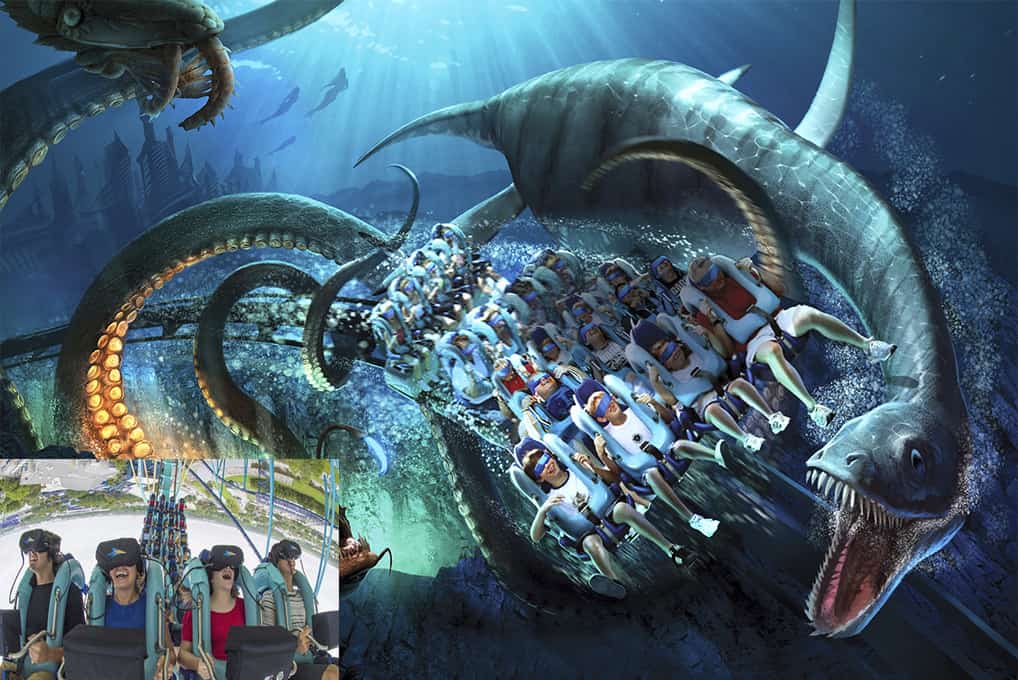 If you're looking for world-class fine dining, shopping and entertainment, you can make your way over to Downtown Disney. Its boardwalk will remind you of the iconic beach towns that were so popular early in the 20th century.
Still another popular attraction is the gigantic Wide World of Sports facility that puts on over 200 sports events every year and is where the Atlanta Braves do their spring training.
As you walk around Disney World, you will see parades, shows and concerts that are almost always playing in the parks. There are even elaborate performances of some of the classic Disney stories that you can drop in on and enjoy. Fireworks displays every night add to the excitement of visiting Disney World.
If you're looking for an interesting family adventure, why not visit one of the Disney properties this year? They say you will have the time of your life and they make sure your experience is unforgettable.